Anne Marcklinger Gordon Selected as Executive Director of Children's Advocacy Center of Suffolk County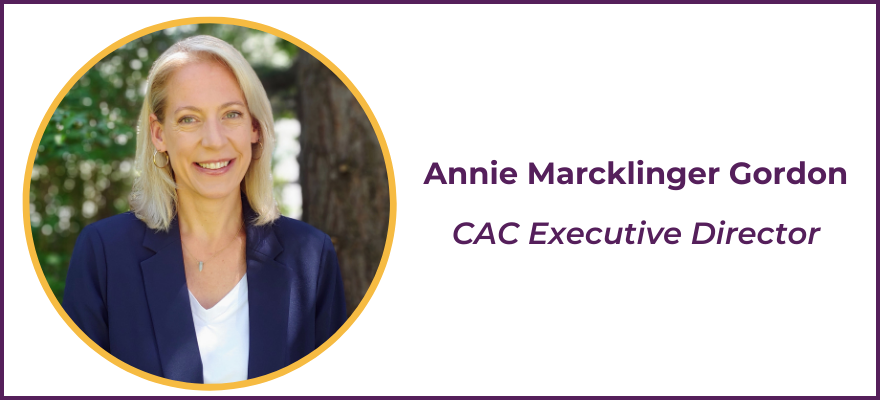 The Children's Advocacy of Suffolk County (CAC) is thrilled to announce that Annie Marcklinger Gordon joined the team as Executive Director today (June 8, 2023). As a key member of the leadership team, Marcklinger Gordon will oversee the day-to-day operations of the CAC of Suffolk County while upholding its mission of ensuring safety, healing and justice for children and families impacted by violence, exploitation and abuse.
"With her background in operations and development, Annie is well-positioned to lead the CAC in this next chapter," said Elisabeth Schadae Percelay, Chair of the CAC's Board of Trustees and part of the search committee that selected Marcklinger Gordon. "We are looking forward to seeing her thrive in this role and support the CAC in its continued growth."

Marcklinger Gordon's extensive experience in senior leadership positions and passion for helping children and families made her a standout in a group of outstanding candidates. As Executive Director, Marcklinger Gordon will be responsible for the strategic oversight of the agency, strengthening partnerships across the County, and ensuring service delivery and fundraising goals are met or exceeded. The appointment of Marcklinger Gordon to Executive Director follows Susan Goldfarb's 30-year tenure with the CAC.
"For 30 years, Susan played a critical and indispensable role in building the CAC into the incredible agency it is today," Marcklinger Gordon said. "I'm honored and excited to build on her vision, bring new energy and ideas to the CAC and leverage my background and expertise to complement the important work the staff is already executing every day."
Marcklinger Gordon has held roles in fundraising and senior leadership for the majority of her career, most recently as the Chief Operating Officer of FamilyAid, an organization serving children and families who are facing homelessness. As the COO, she was responsible for overseeing the programming, facilities, and operations in service to more than 5,000 children and their parents each year. Prior to FamilyAid, Annie held leadership roles at YouthBuild USA and in the community and campaign offices of federal legislators.
"We are grateful to Susan for her decades of service, innovation and leadership," Schadae Percelay said. "We also want to acknowledge and appreciate Beth Bouchard for her dedicated service as the Interim Director during this time of transition and as she continues in her role as Associate Director. The Board of Trustees and the CAC staff are looking forward to welcoming Annie and working with her to continue building on Susan's legacy and taking the CAC to the next level."