CAC Associate Director Featured in DCF Foster Parent Video Series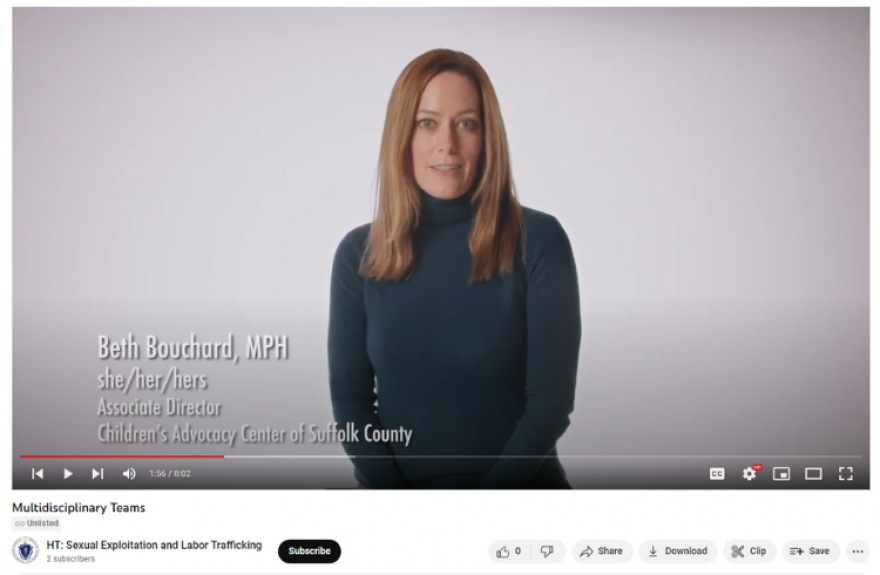 As part of a collaboration with our partners at the Department of Children and Families (DCF) and My Life My Choice (MLMC), CAC Associate Director Beth Bouchard is featured in a new video series for Foster Parents.
The 9-video series, titled "Never Worry Alone: Engaging Foster Parents in Best Practices to Care for Youth who are at risk of or who have been exploited," can be found on DCF's YouTube page. Versions with Spanish subtitles can be found here.

The series was created in partnership with Northeastern University's Dr. Amy Farrell who conducted surveys and interviews with youth survivors, foster parents as well as DCF and Intensive Foster Care (IFC) staff. MLMC and Roxbury Youthworks also provided foundational and specialized training regarding human trafficking to DCF and IFC staff.
While focused on care given to youth by foster parents, this video series provides useful information for anyone who cares for youth, whether in their home or in another setting. By applying this information to their care and work with youth, parents, caregivers, and professionals can demonstrate to young people that they are deeply and authentically valued.
The videos, ranging in length from 4-14 minutes, introduce topics that are intended to lead to a more in-depth conversation about how to support youth. Topic areas include:
Welcome to our Home

Creating a Safe Environment

Engaging in Conversation

Welcome Back

Multidisciplinary Teams

Transition-Age Youth

Labor Trafficking

LGBTQIA Youth and Boys

Social Media and Safety
Led by Nikki Valila from MLMC, the effort to produce these videos included additional support and feedback from many staff working with this population including: Living In Freedom Together (LIFT), EVA Center, Boston University, and all 12 of the Massachusetts Commercial Sexual Exploitation of Children (CSEC) Multidisciplinary Team (MDT) Coordinators, particularly Coordinators from Suffolk and Bristol Counties.