CAC Provides Testimony in Support of Sex Trade Survivors Act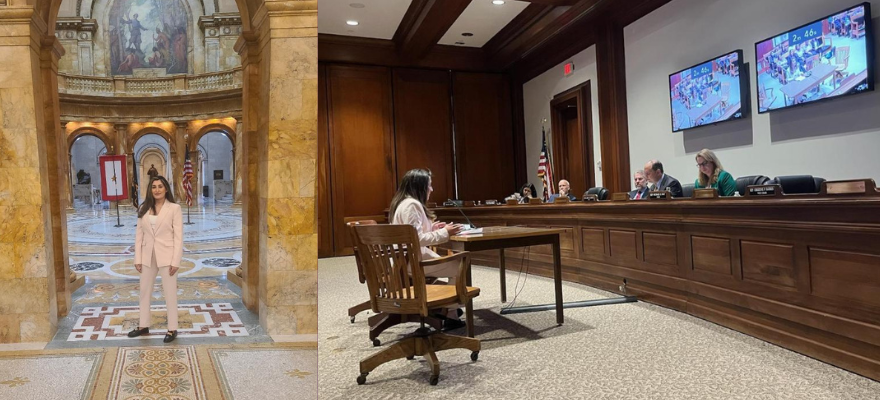 On Tuesday, May 16, SEEN Program Manager Sheelah Gobar represented the CAC at the Massachusetts State House to deliver testimony in support of the Sex Trade Survivors Act. She joined survivors, advocates, and allies from across the Commonwealth—including our partner agency My Life My Choice—to encourage the Joint Committee to report favorably on this legislation which will protect those who are being exploited and provide them with exit services and supports, as well as hold buyers and traffickers accountable.
You can watch Sheelah's testimony at 3:59:50 mark of this recording. You can read the full testimony below:
Testimony of Sheelah Gobar SEEN Program Manager, Children's Advocacy Center of Suffolk County on SEX TRADE SURVIVORS ACT (Equality Model): H1597/S983 An Act to strengthen justice and support for sex trade survivors
Hello and thank you for the opportunity to testify today.

My name is Sheelah Gobar and I am the Support to End Exploitation Now Program Manager at the Children's Advocacy Center of Suffolk County. I am here on behalf of the CAC to voice our support of the Sex Trade Survivors Act (House Bill 1597/Senate Bill 983) and our opposition to Senate Bill 1046/House Bill 1758 and House Bill 1757.
The CAC is Suffolk County's frontline responder to reports of child sexual abuse, serious physical abuse, and exploitation of children under age 18. We unite public, private and community partners to promote safety, healing and justice for children and families impacted by violence, abuse and exploitation.

The CAC's Support to End Exploitation Now Program, also known as SEEN, was established in 2004. It was one of the first Multidisciplinary Response teams in the country to rightfully recognize that the commercial sexual exploitation of children is child abuse, rather than juvenile delinquency.
SEEN provides a coordinated, multi-disciplinary response to at-risk and sexually exploited youth that aims to:
Empower victims to leave their exploiters and regain control of their futures;
Ensure victims' physical and psychological safety and access to comprehensive, specialized resources; and
Enforce offender accountability by apprehending and prosecuting adults who exploit youth
Over the last 18 years, SEEN has received over 2,500 referrals for commercially sexually exploited youth. In 2022, approximately 91% of the 187 youths referred to our program identified as female and 68% identified as youth of Color, primarily Black & Brown girls. The median age of those youth was just 14 years old.
The evidence-based Sex Trade Survivors Act is the only proposed human trafficking bill that aligns with our focus on child safety and well-being, access to resources, and offender accountability.
Research shows that legitimizing buying, pimping, and brothel-owning fuels demand – and unfettered demand creates environments where the most marginalized young people suffer. To fully decriminalize the sex trade would put the exploited children and youth we serve at even greater risk.
SEEN and its partners fear that full decimalization would gut the existing legal mechanisms that protect those who are exploited and trafficked. Full decriminalization provides inadequate protection for children and, if passed, will increase the likelihood that vulnerable youth in Massachusetts are victimized. Instead, we must work to eliminate the factors in society that contribute to individuals being exploited, and uphold laws that strengthen safety nets and prevent children and adults from being preyed upon.
The Children's Advocacy Center of Suffolk County respectfully requests that you pass the Sex Trade Survivors Act and oppose the full decriminalization study and full decriminalization bill. Doing so will protect those vulnerable to trafficking across the Commonwealth, give them access to the support and exit services they need and deserve, and be a first step toward ending human trafficking in Massachusetts.