Children Who Experience Online Exploitation are Supported in Suffolk County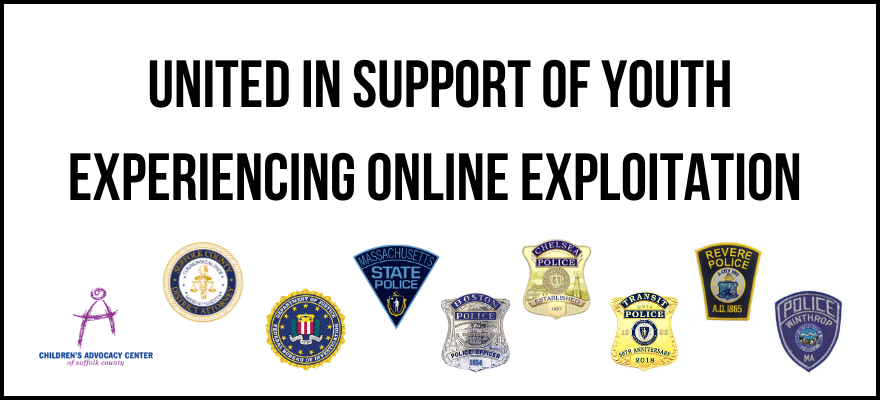 We want the families and community of Suffolk County to know that the Suffolk County District Attorney's Office (SCDAO), Children's Advocacy Center of Suffolk County (CAC), and our law enforcement partners in Boston, Chelsea, Revere and Winthrop support youth who experience online exploitation. We encourage anyone to contact us if they are experiencing online manipulation, grooming, or abuse. We will respond in a trauma-informed and supportive way, that provides you with the help and services you need and deserve.
Youth, caregivers, and community members are encouraged to reach out to the National Center for Missing and Exploited Children's 24-hour Cyber Tipline at 1-800-843-5678 if they see or experience anything concerning.
Resources are available locally and online to help youth, caregivers, and community members understand and address online risks. We've listed some below:
The CAC, in collaboration with SCDAO, offers in-person and online Stop, Block, and Talk trainings to help develop a better understanding of how to teach kids a simple but memorable way to use websites, apps, and games in the smartest and safest way possible. Learn more about our training offerings and book yours today!
If you aren't ready for a training, or want information more immediately, you can check out these resources:
Check out these #PrivacyProTips Videos to learn how to set your privacy settings on various gaming and social media sites.
The FBI's #StopSextortion Campaign has some helpful graphics that explain online exploitation. You can also learn more on the FBI's website.
We are united in support of youth experiencing online exploitation.
Suffolk County District Attorney's Office
Children's Advocacy Center of Suffolk County