Sold Out Step Up & Speak Out Benefit Raises Record Funds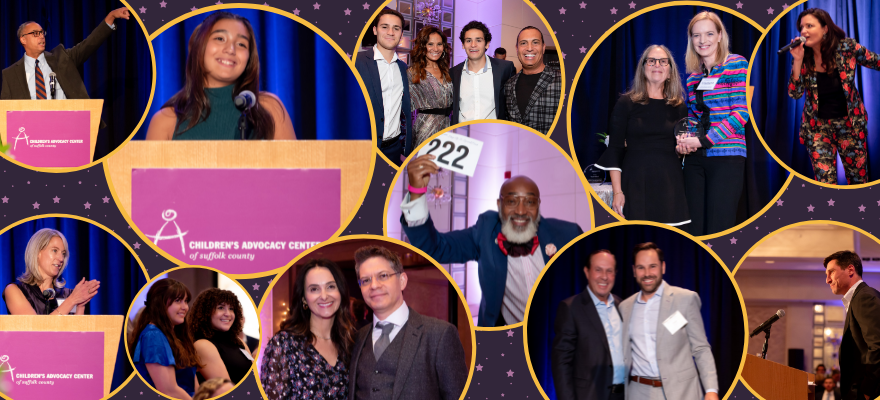 On Thursday, October 12 nearly 400 gathered at the Mandarin Oriental to raise awareness and critical funds for the Children's Advocacy Center of Suffolk County (CAC). Sponsors, hosts, and friends joined forces to advocate on behalf of children and families who are victims of violence, exploitation, and abuse. Guests, along with over 90 generous sponsors committed prior to the event, donated a record-breaking total of more than $750,000!
Since 2014, the Step Up & Speak Out benefit has brought together members of the business, non-profit, and advocacy community to fundraise and shine a light on child abuse and sexual exploitation.

Guests in attendance enjoyed a lively cocktail hour, a mobile bid-driven silent auction, an inspiring speaking program, a live auction hosted by professional auctioneer Zan Aufderheide, and lots of time to reconnect with friends, colleagues and community partners.

During the program, Sophia, a 13-year old survivor of child abuse shared her healing journey, praise for the team who supported her, and a call to action with attendees.
"I think everyone should know that many kids who are abused are not believed or they are told that it was their fault, or that they are saying it for attention. . . We need to increase awareness about abuse, so that kids know they are not alone and it's not their fault. We need to be sure that when children do tell, they are believed, and have people who will help them and fight for them." – Sophia, 13
In addition to hearing about the importance of the CAC from Sophia, the event celebrated two individuals who have demonstrated profound advocacy and leadership in promoting the mission of the CAC and the children it serves. This year, former CAC Executive Director Susan Goldfarb was celebrated for her 30-year legacy of innovation, leadership, and dedicated service to the children and families of Suffolk County. Stuart Elfland of Metropolitan Cabinets & Countertops was also honored for his longtime generous support of the CAC and his unwavering commitment to charitable corporate citizenship.
Suffolk County District Attorney Kevin Hayden, Representative Michael Moran, and Former Suffolk County District Attorney Dan Conley were all in attendance, and former Boston City Mayor Marty Walsh provided congratulatory remarks for Susan Goldfarb via video message.
Presenting Sponsors of this year's event were Dellbrook|JKS, Kimberly Henry Quagliaroli & Jim Quagliaroli, Suffolk Cares, and Torrington Properties. Ambassador Sponsors were Metropolitan Cabinets & Countertops, the New England Patriots Foundation, and Yale Appliance. A complete list of the CAC's generous sponsors can be found here.
Stay tuned to our social media platforms for more photos soon!
Follow Us: Facebook | Twitter | Instagram | LinkedIn